Specialized Launch and Scaling Services for Early Stage Innovator
FGD Law comprises a highly-experienced team that is ready to provide early stage innovators and their emerging growth companies with all of the essential legal strategies and transactional business support that may be required as you invent, scale and grow.
We are the firm you can turn to for your legal solutions at every step of the way.
As an introductory opportunity, FGD Law offers flat fee service packs to help innovators jump start the development process of your enterprise. Emerging companies may take advantage of these services to acquire the critical support FGD Law may provide without the fear of unbudgeted legal bills.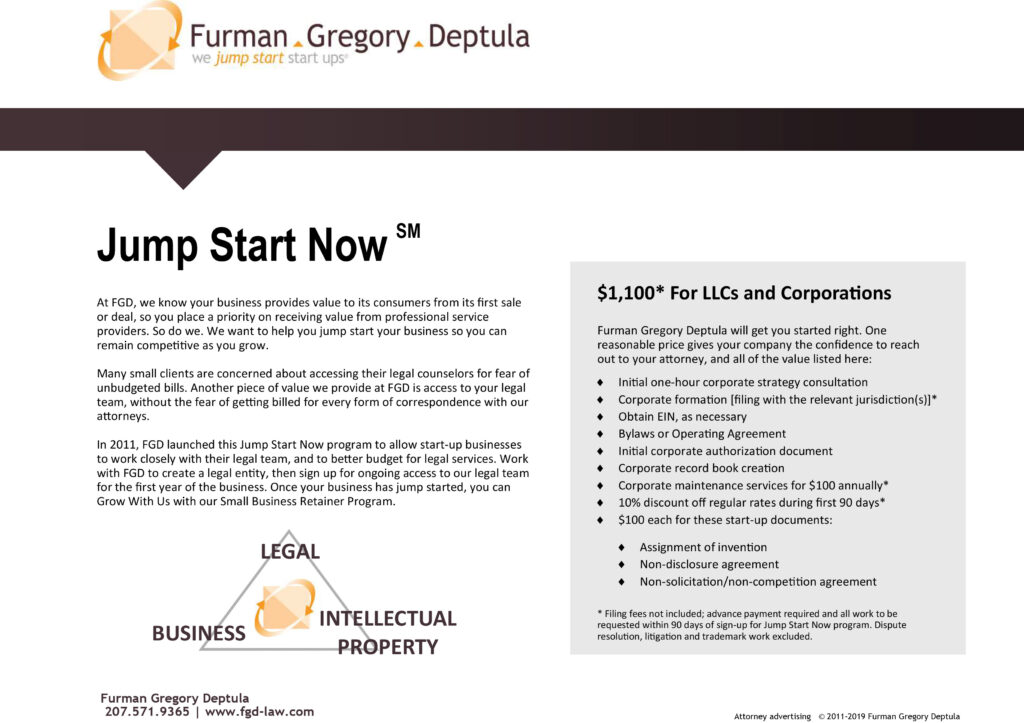 JumpStart! enables new businesses to work closely with their legal team and to better budget for the critical services necessary for sustaining growth as they compete. Create your legal entity and then sign up for ongoing access to the FGD team for the first year of your business. Once you have jump started, you can continue with us as you innovate, scale and compete.
Basic Jump Start: $950 for LLCs and Corporations
One reasonable flat fee provides your company with the confidence to reach out to your FGD legal counsel and capture all of the valuable support you may need, including:
Initial one-hour corporate strategy consultation
Corporate formation (filing with the relevant jurisdiction (s))*
An EIN, as necessary
Bylaws or Operating Agreement
Initial corporate authorization document
Corporate record book creation
Corporate maintenance services for $100 annually*
10% discount off regular rates during first 90 days*
Plus $100 each for these start-up documents:
Assignment of invention
Non-disclosure agreement
Non-solicitation/non-competition agreement
* Filing fees not included. Advance payment required and all work to be requested within 90 days of your commitment to the FGD JumpStart! program. Dispute Resolution, Litigation and Trademark work excluded.
How May We Help? NextStep@fgd-law.com